Working Boards
2016-10-06:

This week Medusa Computer Systems received a first fully functional board from the assembly company.

The bus drivers had been removed from the computer, isolated with Kapton tape and soldered back on afterwards. The system is now running perfectly and the chips are not getting warmer than 45 degree celsius even after several hours of operation.

As we had supected, contrary to the spec sheet, the bus drivers had become conductive after a few minutes runtime. The Kapton tape currently in place on the bottom side of the thermal pads isolates them completely, while still allowing for heat dissipation. A more detailed technical explanation will follow as soon as we are in the mood for an in-depth article in the coming weeks. ;)

The good news, then, is: Provided that there will be no other unexpected catastrophies, we will be able to deliver the first computers end of October! The newly equiped systems will be delivered to us in 2-digit batches every two weeks, and then checked thoroughly one by one, before they are sent out. The pre-orders will be processed in the order they were made. So all those who pre-ordered will soon be contacted by us.

Again, kudos to all of you - the best community in the world! In the last months of uncertainty there was not a single bad word, only encouragement, understanding and trust from your side. Thanks!

Here is also a picture of the heat camera for comparison. The upper one shows the version with the new Kapton tape.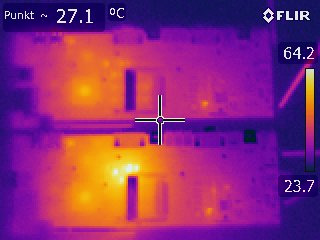 13 Comments
MaeseDude :: 2016-10-13 14:45:59

Great news! Looking forward to my new FireBee! :-D
fidzen :: 2016-10-30 00:24:57

Hope things are going forward with the boards, really looking forward to the shipment of the Firebee´s.
pit :: 2016-10-31 08:37:11

great !
Robroy :: 2017-03-07 18:56:59

This is fantastic; thanks so much for sharing the news.
djmITman :: 2017-06-02 17:06:19

Hi All
Any updates on when the systems will ship? What are you still waiting on? Cases, clips, something else? Please share with the community - anything we can help with?
Mathias :: 2017-06-04 22:04:35

We are already shipping. Slowly, but it is progressing. Also we are waiting for the new mini-cases. Thanks as well for your support offer, but there is nothing that we all can do recently to speed up the shipping process.
Gamer :: 2017-08-18 16:52:02

This is all good news. Is there anything else the new board will have that old ones will not. Also, what will be different about the new mini-cases. Just how do owners of the old board keep the boards cool? I just keep a small fan on mine. What are the symptoms of an over heated board?
djmITman :: 2017-08-18 19:41:28

Hi Mathias - any progress updates on shipping? Do you have all the components you need now?
Mathias :: 2017-08-29 10:03:56

We got everything for shipping. Cases arrived in July and shipping is going on already.
And there are no differences of the first series and the recent one.
djmITman :: 2018-02-02 11:16:33

Hi all - any news on shipping? I have sent a few emails over the past year and heard nothing. Can I get an indication of how many boxes left to ship?
Mathias :: 2018-02-02 18:16:17

"Nothing" is for sure not true!
And no I am not telling publicly after every new parcel how many are left.;) Drop me another mail if I really did miss one of yours.
djmITman :: 2018-02-19 12:08:34

Hi Mathias
emailed you over a week ago again and no reply - maybe I have the wrong email but I just replied to an older email from you.
Can you advise the current email?
Mathias :: 2018-02-26 07:33:04

I don´t know what your problem is exactly. There are several mails coming in the last weeks. Please send a mail to both adresses that you can find at "contact" above.

Latest News
New Firmware, FPGA Configuration and FireTOS
2020-08-31:
Already a long while back we promised to you the new software for your FireBees. ...

Read more
---
COVID-19 Watcher
2020-03-30:
If you have an Atari connected to the Internet, you may now track the coronavirus ...

Read more
---
FireTOS addon archive
2019-08-12:
The ACP-Team collected a set of useful software, prepared to give you best singletasking ...

Read more
---