LED- and Speaker-Clip
2016-06-14:
The mini-cases of the FireBee are made by a metal-working company in Vienna in small batches. While we are very pleased with these high-quality aluminium casings, the small series still meant that we had to accept a certain reduction in quality due to the manual manufacturing finish.

This pertained to the final assembly of the speaker and LEDs in the case itself. Clearly, we had to get rid of the need to attach them with hot glue. In order to achieve this goal, shortly after the first case series, Milan Tirnanic created a clip which makes it possible to mount all 3 parts in the case in a way that they both are perfectly fixed, and - to be future-proof - still allows to replace defective components in the future.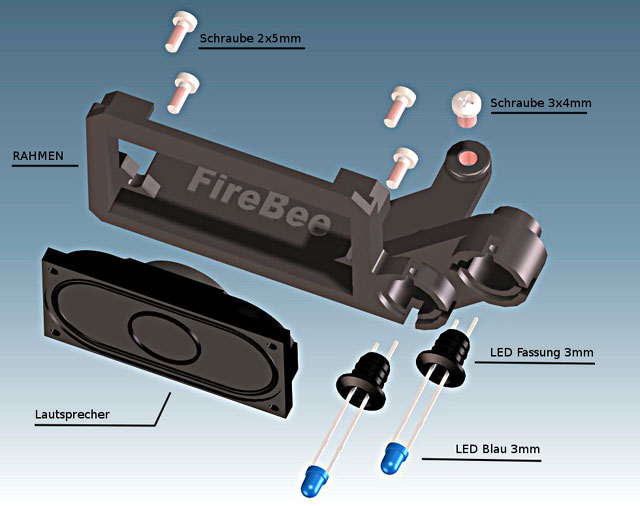 As shown on the right, the clip consists of a frame for the speaker, to which the speaker of the FireBee is attached with 4 screws. In addition, there are two LED-openings in which the LEDs can be inserted with common rubber mounts. There are venting holes for the heat generatd by the LEDs. Underneath, the clip perfectly aligns itself to the FireBee board and is attached with a single nylonscrew from the boards' top side, under the print (so between the board and the case). It's as simple as it gets! As a "goodie", there is also a FireBee-label on the clip itself which documents the exclusive production and special manufacturing of the FireBee case. In our opinion, the clip meets the highest aesthetic standards.

Ideally, these clips should be produced using injection molding, but that isn't feasible with small batch series. Because of that, we looked very hard and long for a comparable production process. Be it deep drawing, laser sintering, 3d printing or vacuum casting - we tried many alternatives. Unfortunately, until now the quality standard or the unrealistic price made them impossible to produce. But then we finally found a company which provides laser sintering at a very reasonable price in southern Germany.

Therefore we decided to equip all new cases with this industrial-quality built clip!

Since we can produce only one single series of these clips, we want to provide an option for all existing mini-case owners to buy one. We offer the clip for very affordable 12,60 Euros (plus shipping) as export of Medusa Computer Systems from Switzerland.

We ask everyone who already owns a mini-case and is interested in this mounting support for the speaker and the LEDs, to place a binding order until Sunday, 26. of June, 2016!

Again: There will only be one single production run of these clips, ever. Latecomers will only have the options of getting a 3d printed one from us (at a much lower build quality), or to buy an indiviually manufactured one at a price of 56.- Euro.

Furthermore, this entire introduction of this new speaker clip means that the delivery of the second batch of cases will be delayed for a few weeks. We hope you can live with this compromise and agree with us that this professionalisation of the mini-case will be more than worth it.

Finally, we want to provide an extra page with several pictures of the prototype . Note: the prototype still shows a label that will be rotated by 180° on the final product. Enjoy this new development!

The construction data files are made available as "Open Hardware" under the "Creative Commons by-nc-sa" license, as ".stp", ".stl" and ".pkg" files. The files used for the production will soon be available for download on our support page, together with the other hardware.



11 Comments
Gamer :: 2016-06-14 11:56:18

This looks pretty cool. I would love to have one. Where on this site do I order?
ACP :: 2016-06-14 14:37:27

Just drop us a mail, like always. ;)
mehlab :: 2016-06-15 08:16:58

keep me inform thank you
Gamer :: 2016-06-16 00:00:57

This clip is something I want, so which email address do I use to place an order?
Mathias :: 2016-06-16 00:57:38

You might try to klick at the main category "Contact" above ;-)
crashman :: 2017-02-19 22:52:18

Any news on this?
Mathias :: 2017-02-21 17:05:48

They are ready for some time. New mini-cases get delivered with the clips automatically. We will care about the additional orders of these clips for the first case-series, as soon as the recently preordered computers are out to all new FireBee users. It is more complicated, as the usual shipping costs would be 14,- Euros for a single clip :-/ But we got an idea how we could ship them to you a lot chaper, but this takes some time.
djmITman :: 2017-02-21 21:12:35

Hi - I got an email recently that said there was a delay in the new batch of cases being produced. Has this been resolved now? Are the new batch of cases available?
Mathias :: 2017-02-22 16:21:49

They should be in production now, and they should not take longer than 5 weeks. But as the new company needed from 4th of October till yesterday to start the production, I will not promise anything again. I wouldn´t wonder if there are further delays at laquering or serigraphing. Shipping will continue as soon as the mini-cases are available. The plan was perfect. We ordered at beginning of October, they promised 5 weeks production time, and we had 15 cases left. So it should have been a smooth time frame without any delays noticable to you the customers (including some backup time). So we told them "mid to end of November is fine (more than 7 weeks). But the reality as small customer to a huge metal working company is different, ...
At this series really everything that can go wrong, went wrong. :-/
Bjarne :: 2017-02-25 12:51:37

What about the rest of us, who are waiting for one? When do we get "where to pay", and delivery of these clips?
Mathias :: 2017-02-25 16:06:39

As I explained it 4 postings above. For further questions please drop us a mail.
Latest News
New Firmware, FPGA Configuration and FireTOS
2020-08-31:
Already a long while back we promised to you the new software for your FireBees. ...

Read more
---
COVID-19 Watcher
2020-03-30:
If you have an Atari connected to the Internet, you may now track the coronavirus ...

Read more
---
FireTOS addon archive
2019-08-12:
The ACP-Team collected a set of useful software, prepared to give you best singletasking ...

Read more
---